The Arizona Women's Partnership, Inc. is an all volunteer philanthropic non-profit organization dedicated to promoting the status of Arizona women and empowering women's grass roots organizations through mini grants and publicity. The organization is non-political and non-sectarian, and is sensitive to the needs of underserved and disadvantaged women and their families. Proceeds are generated from FUNdraisers and through corporate sponsorships and private donations.
Sacred Circle - Art by Pam Reinke
The Arizona Women's Partnership is the featured non-profit at the In Celebration of Women female art exhibit in honor of the Centennial of the 19th Amendment


For having created the Arizona Women's Partnership, Paula Cullison received one of the prestigious Amazing Women Awards presented by National Bank of Arizona and the Phoenix Suns – March 2015 and the Lifetime Achievement Award from Child & Family Resources – December 2017 (Video Link),
the YWCA Tribute to Leadership Award for Advocacy – February 2019, and the BMO-Harris Bank 2019 Women Who Serve Award

Tribute Advocacy Honoree

Events & Updates
A message of thanks from some of AZWP's donors. Kudos to Levi Elizaga for taking the time to film and edit this video.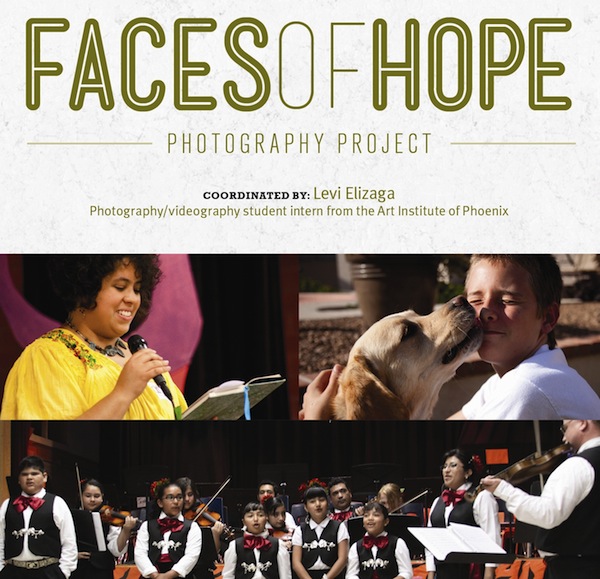 Click on the image to see the full informational flier
Faces of Hope wix site was created by Dyah Ayuni Wijayanti
www.facesofhope.wix.com/azwp

AZWP - Faces of Hope video created by Levi Elizaga
Faces of Hope photography exhibition is at the University of Arizona Medical Education Blg in Phoenix and has been at Phoenix College Library for three months, the Paradise Valley Community College Library for two months, at the ASU West Fletcher Library for five months, at the Maricopa County Sun City Library for two years, and at the ASU Downtown Phoenix Campus Library for five months. Display graphics were designed by Dereck Bermudez. The exhibit (dry mounted photographs) is available for loan at no charge.

Yes, we can do it! is a photojournalism project of the Arizona Women's Partnership by photographer Tracy Rasinski. The project is funded by the Arizona Commission on the Arts, National Endowment for the Arts and the Gap Foundation and profiles beneficiaries of the AZWP grants. The project's original blog can be found at www.yeswecandoit.blogspot.com.