AZWP grant recipients are selected annually by an application and review process. Many are multiple year recipients. Founder and President Paula Cullison proudly notes that the Arizona Women's Partnership has awarded over $235,000 in grants to Arizona charities since its formation in 2002.

Profiles of our grant recipients and grant application can be found under the Documents section of the website.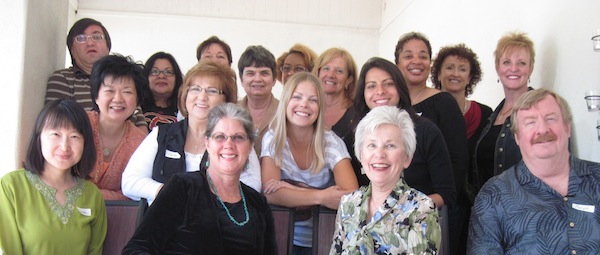 The AZWP 2012 Grant Review Committee
AZWP Grant Recipients 2013
Alice's Place Domestic Violence Shelter in Winslow
Arizona Assn for Foster and Adoptive Parents
Arizonans for Protection of Exploited Children & Adults
Desert Sounds in Chandler
H.A.V.E.N. Family Resource Center in Lake Havasu
Mini Miracles Animal Therapy in Tucson
Southwest Valley Literacy Association
Tucson International Alliance of Refugee Communities
Unlimited Potential, inc.
Welcome to America Project for Refugee Families
Yavapai CASA for Kids
Y.E.S. for Navajo Youth Dine' Bike'yah in Teec Nos Pos
AZWP Grant Recipients 2003-2013
About Care Services for the Elderly in the East Valley
Alice's Place Domestic Violence Shelter
Arizona Assn for Foster and Adoptive Parents
Arizona Blankets 4 Kids, Inc.
Arizona Coalition for Tomorrow Charitable Fund, Inc.
Arizona Rising Suns Track Club
Arizona Sexual Assault Network
Arizona South Asians for Safe Families
Arizonans for Protection of Exploited Children & Adults
Asian Pacific Community In Action
Camp Verde Adult Reading Program
Community Dental services for at Risk Youth in Maricopa County
Community Kids of Globe
Coolidge Youth Coalition
Defenders of Children
Desert Sounds
El Centro Adelante Juntos drug prevention San Manuel
Eve's Place Domestic Violence Shelter in Surprise
Foster Angels of Arizona/Arizonans for Children
Gabriel's Angels
Girls on the Run Sports Program
Good Neighbor Food Services in Chino Valley
Greenbacks Bringing Hope Foundation for Single Moms
Growth Improvement for Female Teens
Havasu for Youth
H.A.V.E.N. Family Resource Center, inc. Lake Havasu
Healthy Mothers Healthy Babies
INN Transitions Shelter and Services for the Homeless in Flagstaff
Lake Havasu Abuse Prevention Project
Make Way for Books in Tucson
Maricopa County Task Force Against Domestic Abuse
Mini Miracles animal therapy disabled children Tucson
Payson Community Kids
Power Paws Assistance Dogs, Inc.
Recovery Centers of Arizona - Tucson
SEEDS: Women in Transition
Shoebox Ministry Toiletries for the Homeless
Soroptimist International of Mesa and of the SanTans
Southwest Valley Literacy Association
The Sudanese American Center in AZ Women's Project
The Welcome To America Project for Refugees
Timber Trails Children's Project, Inc.
Tucson International Alliance of Refugee Communities
United People Who Care Org. Youth Program Winslow
Unlimited Potential, inc. Education programs in So Phx
Urban Coalition West
Washington Elementary Education Foundation
WellCare Foundation
WHEAT Clothes Silo
Women 4 Change at Perryville Prison in Goodyear
Yavapai CASA for Kids
Y.E.S. for Navajo Youth - Dine' Bike'yah - Teec Nos Pos